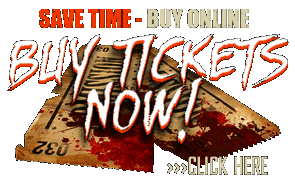 This is not a drill! Much of the world's population has become infected by a virus turning them into blood thirsty zombies. The government has developed a vaccine for the virus that must be administered in 6 doses, but the airdrop containing the vaccine has landed inside a storage yard that is known to have zombies inside. If you want to survive, you'll have to make your way through the yard to collect all six vials while avoiding the living dead that roam the grounds. Do you have what it takes?
Zombie Outbreak: Race Against Time is a fast-paced game that combines an obstacle course, a scavenger hunt, and live "zombies" to create a truly unique experience. Players will have to navigate their way over, around, under, and through the course to find and collect each of the six vaccine vials without being "bitten" too many times by the live zombies inside. If a player makes it out of the course with all six vials and at least one health unit remaining they win and each player's winning time will be recorded with the fastest players being placed on our leaderboard. At the end of the season, the player with the fastest time will win the title of "Ultimate Zombie Survivor" and our grand prize, a 55 inch Vizio Smart TV! Are you brave enough to run the course? Will you be the ultimate survivor? Find out at the all new Zombie Outbreak: Race Against Time at Raven's Curse Haunted House!
Zombie Outbreak: Race Against Time is a separately ticketed event.
BOOK YOUR Adventure NOW!!
BUY TICKETS!