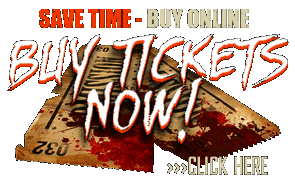 Is it scary?
Yes!
What if I get too scared?
Just let an actor know you'd like to leave and they'll help you to the nearest exit.
Is it wheelchair accessible?
Yes, and a member of our staff will accompany you in case you need any assistance while inside.
Is there free parking?
Yes.
If I get scared while inside or choose not to go in can I get a refund?
No, there are no refunds.
Will I get touched?
No, our actors will not intentionally touch you.
Is there an age limit?
No, we ask parents to use their judgement. Think of us as a PG-13 movie.
If I have my tickets and am waiting in line at closing time, will I still get to go through?
Yes, anyone waiting in line by closing time will go through the attraction.
What types of payment do you accept?
We accept cash and credit cards at both our ticket booth and our gift shop.
Are there any conditions inside the attraction that I should know about?
You will encounter loud and sudden noises, dark areas, confined spaces, fog effects, water effects, latex, and strobe lights. If you suffer from a condition that might be negatively impacted by any of these conditions we encourage you not to attend. If you have any questions or concerns please speak to one of our staff members before entering.